Downloading a video from YouTube have never been a pain. There are a bunch of methods to download YouTube  videos these days. Using some tools, online sites and browser extensions. Maybe you have noticed that there came some changes to YouTube. Like new HTML5 player, new layout and all. Also, there came an update to video streaming technique far before.
The new technique introduced is called Dynamic Adaptive Streaming over HTTP (DASH). Maybe you are reading this article to know why some videos lacked audio output (eg: 480p, 1080p,1440p). That happened because those videos were in DASH format.
What actually a DASH format is? DASH is an adaptive bitrate streaming technology where a multimedia file is partitioned into one or more segments and delivered to a client using HTTP. Ie, for such videos the audio and video files, are stored in separate files. Hence, you need to download both audio and video files to make the video complete.
How To?
There are a bunch of methods you could try. There are tools to download audio and video together in the merged state. You may also try manual methods to merge. To perform it in the manual method, you will need to download both audio and video files.
Airy is a tool which simplifies the downloading process from Youtube in a Mac machine. All you have to do is copy and paste a video URL from Youtube. Airy lists down all downloadable files in an instance, including mp3 file. And the good news is, it supports 4k & 8k qualities too. It also merges the 1080p video file with the audio file so that we don't have to do it manually.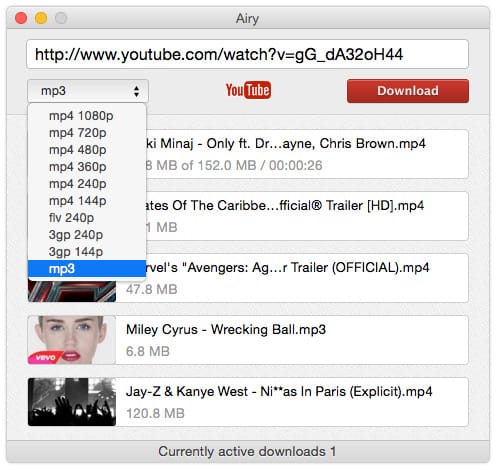 Using this tool, you may download a video from youtube with audio. Merging of the files will be done by the tool after downloading them. So we don't have to worry at all. The app is free, but there may be ads in it if we don't purchase the premium licence.
Method 3. Do it manually
You will need to download both audio and video files. For that, you may use an app (eg: IDM, EagleGet etc). The better way is to use an online tool. Follow the steps below.
First of all, open up the YouTube video in any web browser. Now take a look at the video URL.
Change the video URL to https://www.

ss

youtube.com/… That is, add

SS

 prior to the URL.
Now you will get to a new site, where you will find the option to download the video files. In this case, we need to download the 1080p video and the audio file. Download both files.
Now you need to download one more thing, a tool called FFmpeg. Extract the downloaded file using 7zip or any other extracting tool to the desktop.
After extracting you will find the tool, ffmpeg.exe inside the bin folder. You can't just open it like any other tool. You need to use the command prompt to do so.
Place audio and video files along with the ffmpeg.exe tool. Doing so will make the next step easier.
Open a Command Prompt window. To do so, open Run by pressing WinKey+R, and type in cmd. Press enter and you will get a command prompt. Now the folder containing video files and the tool will be there in the desktop. Change the directory in command prompt to that particular folder.
Now use the following command. You may spot the names of files are written in the command. You may change the names with respect to the file names. Output file name can also be changed.
ffmpeg.exe -i audio.mp4 -i video.mp4 -acodec copy -vcodec copy output.mp4
That is it. You will see the output file inside the same folder after the merging process. This method can be useful not only for the case here, you may merge any pair of audio & video files together.
I hope you carried out the merging successfully. If you have any comments or queries, especially while using the command, leave it in the comment section below.